Dental Pro 7 Ingredients | Safe, Effective, All natural Ingredients

Know the Natural Ingredients to Create Dental Pro 7
Dental Pro 7 Ingredients: According to the official manufacturer, Dental Pro 7 is a gum extract. Consist of natural ingredients to eliminate the adverse effects of the product on the teeth. Helichrysum italicum ingredients of having complete benefits to relieve pain due to gum sores and wounds heal existing ones. This material also becomes active to make cuts heal faster by forming new cells in the gum area. In addition, this product contains Leptospermum scoparium pasa wound healing of the gums.
Dental Pro 7 Ingredients is Paraben-free
Dental Pro 7 is Paraben-free, it contains no preservatives, no artificial chemicals, no colors, no animal products, no fillers, no SLS, no perfumes and no fluoride, it contains just '100% pure' natural ingredients: Dental Pro 7 is a natural product that consists of natural ingredients which are very complete for treating gum problems as a whole. So why should you have nothing to lose by trying dental pro 7.
What Dental Pro 7 Ingredients?
Dental Pro 7 Ingredients is paraben-free, it contains no preservatives, no artificial chemicals, no colors, no animal products, no fillers, no SLS, no perfumes and no fluoride, it contains just '100% pure' natural ingredients:
Helichrysum Italicum (Immortelle) : A Wild Mediterranean plant with bright yellow petals, Used by the ancient Greeks for its excellent healing attributes
Leptospermum scoparium (Manuka) – There is also evidence indicating that it is up to 20 times more potent than Australian tea tree at killing pathogens, germs, and bacteria
Commiphora myrrha (Myrrh): We use Indian Myrrh oil extracted from the resin of the Commiphora myrrha tree. Indian Myrrh is high in Flavonoids which can help to assist in inflammation reduction* and naturally, support the body's own immune system
Punica granatum (Pomegranate) seed: This luxury 'cold-pressed' Pomegranate seed oil from India is a powerhouse of antioxidants, vitamins and Omega 5 fatty acids
Mentha Arensis (Cornmint): Adds a pleasant minty taste to the product and helps kill oral bacteria
Dental Pro 7 Ingredients – Safe, Effective, All natural
Eugenia caryophyllus (Clovebud)
Mentha Spicata (Spearmint) leaf: Spearmint gives the product a sweet minty taste
Alpha tocopherol (Natural Vitamin E): Vitamin E is a natural antioxidant that helps to protect the cells and membranes from environmental damage
Thymus Vulgaris (White Thyme): We get our white thyme extract from Hungary
Mentha piperita (Peppermint) leaf: Peppermint gives Dental Pro 7 its sharp menthol kick. Gives you fresh smelling breath and is an excellent anti-bacterial agent*
Vitis Vinifera (Grapeseed): We use grapeseed to 'carry' all the ingredients into the gum tissue, Its a very light, fast penetrating lipid containing vitamins, omega 6 fatty acids and has good astringent qualities
Source article – http://dentalpro7.com/
Dental Pro 7 Ingredients | About Us…
Here at Call Nature, we are passionate about providing you with the best quality and highest strength products humanly possible… that 'actually work'
We formulate all our products 'in house' and only manufacture in Great Britain, this way can assure the proper quality, strength, purity and individual ingredients go into each and every batch
…It all started 16 years ago (back in 2004) when founder Daniel Sanderson developed a solution to his own skin and oral health problems by combining the latest scientific research with the power of natural plant extracts, herbs and oils
Sick of the ineffective, chemical laden, and watered down commercial products he'd tried in the past, he sat down to design 'from the ground up' an entirely new way of making products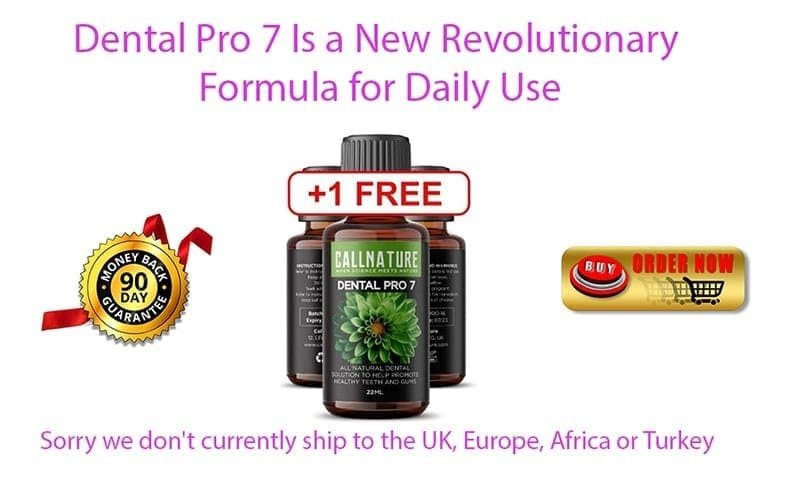 The task set was to create a new 'gold standard' in cosmetics that followed 3 simple rules
1. They had to be 100% natural and contain no nasty, irritating or harmful chemicals
2. They had to be 'professional strength', contain the highest levels of active ingredients possible and not be watered down in any way shape or form (production costs were of no object)
3. They had to 'actually work' and get real results based on real science (not hear say)
After about a year of non stop testing, tweaking, and reformulating, Daniel was absolutely blown away with the results of the new products
…So much so, he knew from that day forward he could potentially help thousands of other people too
… so in 2005 our company "Call Nature" was born
A year later we'd already helped thousands of people across the world and we've been growing rapidly (mainly by word of mouth and recommendations) ever since
Hopefully you'll be our next success story
Source article – http://dentalpro7.com/
Related Post: Dentalpro7 Reviews, What Cures Gum Disease